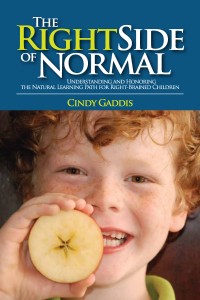 To read the endorsements and testimonials, go here.
To find out what it's about, go here.
To read some excerpts, go here.
To purchase a print copy, go here.
To purchase an e-book copy, go here.
If any purchase does not go according to plan, please contact me and let me work it out with you. I'm here to help you get the information you want!
Contact me at therightsideofnormal@gmail.com.
Thank you! Cindy
Copyright © 2012 Cindy Gaddis
Edited by: Linda Dobson, http://parentatthehelm.com/
Back copy by: Sandra Reimer, http://reimer-reason.ca/
Cover photo by: Marianne PS Stern, mphalens@me.com
Cover design by: Jason Wall, jawagraphics@gmail.com
ISBN 978-1-62141-766-8
All rights reserved. No part of this publication may be reproduced, stored in a retrieval system, or transmitted in any form or by any means, electronic, mechanical, recording or otherwise, without the prior written permission of the author.
BookLocker.com, Inc. 2012
First Edition
DISCLAIMER: This book details the author's personal experiences with and opinions about right-brained learning. The author is not licensed as an educational consultant, teacher, psychologist, or psychiatrist.
The author and publisher are providing this book and its contents on an "as is" basis and make no representations or warranties of any kind with respect to this book or its contents. The author and publisher disclaim all such representations and warranties, including for example warranties of merchantability and educational or medical advice for a particular purpose. In addition, the author and publisher do not represent or warrant that the information accessible via this book is accurate, complete or current.
The statements made about products and services have not been evaluated by the U.S. government. Please consult with your own legal or accounting professional regarding the suggestions and recommendations made in this book.
Except as specifically stated in this book, neither the author or publisher, nor any authors, contributors, or other representatives will be liable for damages arising out of or in connection with the use of this book. This is a comprehensive limitation of liability that applies to all damages of any kind, including (without limitation) compensatory; direct, indirect or consequential damages; loss of data, income or profit; loss of or damage to property and claims of third parties.
You understand that this book is not intended as a substitute for consultation with a licensed medical, educational, legal or accounting professional. Before you begin any change in your lifestyle in any way, you will consult a licensed professional to ensure that you are doing what's best for your situation.
This book provides content related to educational, medical, and psychological topics. As such, use of this book implies your acceptance of this disclaimer.